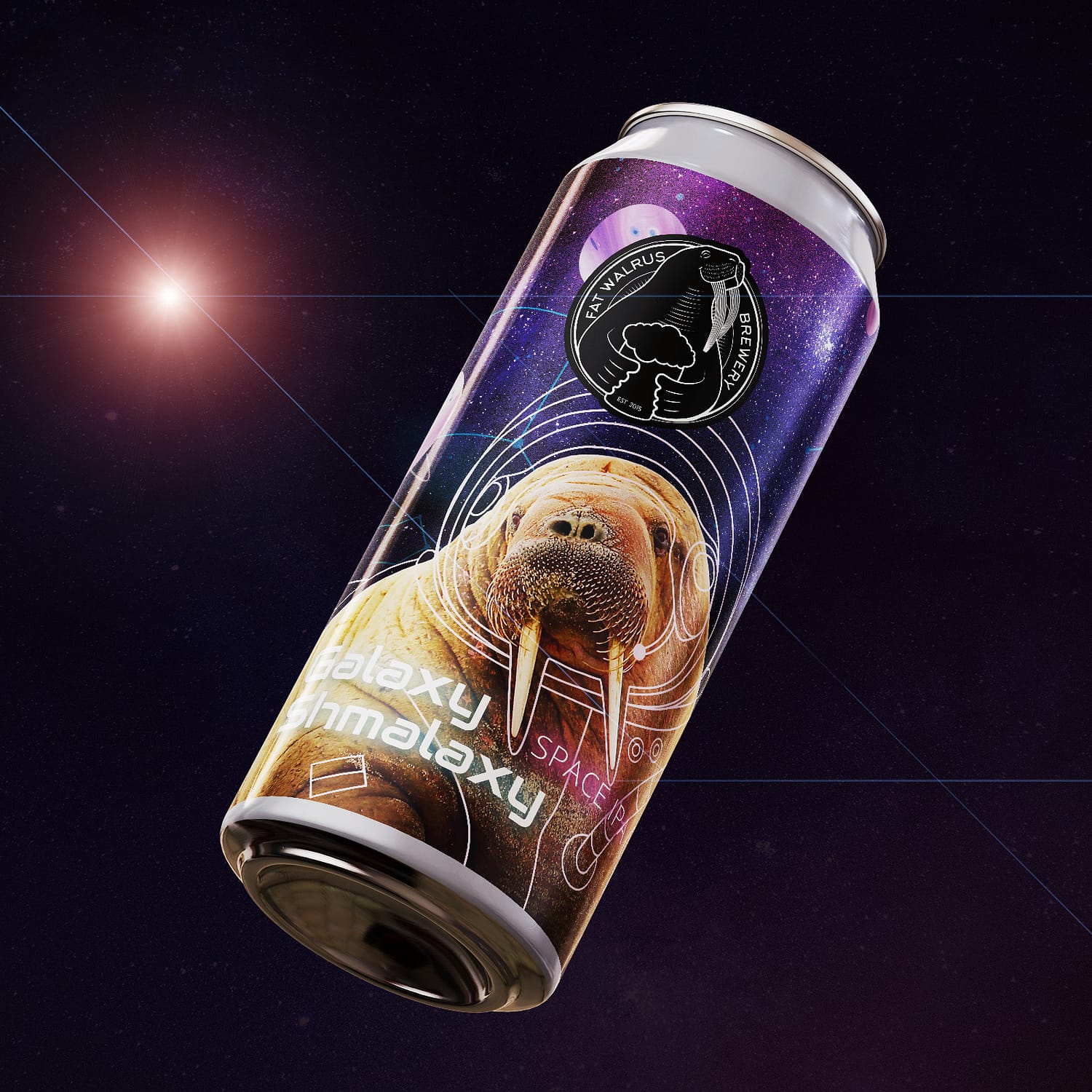 Irish Fat Walrus Brewery's "Galaxy-Shmalaxy" IPA beers label design.
This beer flirts with space on multiple levels. The Fat Walrus Brewery used Galaxy hops (hence the name), as well as CryoPop, a new hop blend. The latter is prepped using cryogenic processing technology, which is common in science fiction space travel. So grab your towels, because we're about to embark on a trans-galactic adventure.
When designing a beer label, I try to imagine myself as a customer. How do they select a product from a physical or virtual shelf? What makes it distinct?
At the very least, well-designed packaging will catch the attention of customers and evoke their interest in the product. And, in the long run, establish recognition and loyalty.
Two of the elements that can make beer packaging memorable are humour and surprise. That is the primary reason we chose to send Walrus into space. Do you think you'd see a Walrus in space? And on a can of beer?
Working on this project was equally a lot of fun. Our code name for it was: "Close Encounters (of the Walrus Kind)."
I began by creating a collage draught of the label, which included cut out planets and a star map of the Dublin sky on the day of brewing.
The brave Walrus astronaut appears on the final beer label design. He's determined, but a little puzzled about how he got there.
Planets and galaxies are spinning in the background. The Walrus, of course, is the centre of gravity.
We continued the sci-fi theme with the other elements of "Galaxy-Shmalaxy" label, which is reflected in the colour and font choices, as well as the neon effect. All to exemplify the out-of-this-world flavour of this aromatic IPA beer.
This one-of-a-kind can featuring a Walrus astronaut is vibrant and memorable. It is distinct from other craft beers on the supermarket shelf. Beer enthusiasts reacted positively to this beer and its packaging.